| | This page has been translated with Google Translation |
| --- | --- |
URBANIZATION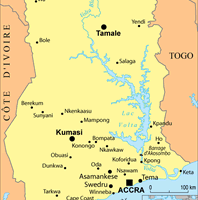 HISTORY OF CITIES – HERITAGE
URBAN HOUSING
RURAL HOUSING
More than half of the population lives in rural areas in small settlements characterized by neglect and decay. With low incomes and no access to housing credit, these families cannot afford to build their own decent homes or even improve what they have. Female-headed households have even less opportunities to own property. (1)
HABITAT : LEGAL ASPECTS



RIGHT TO HOUSING
The provisions of the Fundamental Human Rights and Freedoms are entrenched in Chapter 5, Articles 12-33 of the 1992 constitution of Ghana. The rights, duties, declarations and guarantees relating to the fundamental human rights and freedoms specifically mentioned in this Chapter shall not be regarded as excluding others not specifically mentioned which are considered to be inherent in a democracy and intended to secure the freedom and dignity of man. (4)
The Constitution of Ghana does not expressly protect the right to adequate housing. It nevertheless provides for the ri ght to own property alone or in association with others, the right of non-interference with the privacy of one's home as well as protection from the deprivation of one's property, all of which can be found in Chapter 5 of the Constitution. (4)
In addition, article 11 of the Constitution provides for the recognition of the existing laws of the land as part of the laws of Ghana, thus making the Rent Act of 1963, the Conveyance Decree of 1973 and related regulations governing accommodation in the country. The right to adequate housing is in tricately linked to the enjoyment of other human rights like security of person, education and health. (4)
FORCED EVICTION
No evictions in Ghana ! (IAI & NO VOX)
"Forced evictions and threats of forced eviction are very common in Ghana. This is especially true for the poor and marginalised.
In October 2009, authorities in Ghana's capital, Accra, destroyed structures belonging to hundreds of people along the railway and in a slum known as "Abuja" – depriving families of their homes and livelihoods. According to local residents, they were not consulted about the evictions or demolitions, and were not given any compensation of adequate alternative housing.
Thousands of others living in Accra are also facing forced eviction, sometimes from communities in which they have lived for more than 30 years". (2)
The settlement of Old Fadama stretches across 146 hectares and houses an estimated 25,000 to 40,000 residents, making it the largest informal settlement in Accra and perhaps within Ghana as a whole. The slum is located in the heart of the city, to the northwest of the Central Business District, and hosts a mix of informal residential and commercial structures, with many hawker and niche food markets and small businesses. An estimated ten thousand local residents earn their living from business activities within the slum. The settlement grew significantly throughout the 1990s when it became a popular area for housing and work activities for many Ghanaians due to its low-cost rent, close proximity to the city centre, and central markets that provide ample income-generating opportunities. (5) More informations : http://base.d-p-h.info/fr/fiches/dph/fiche-dph-8430.html
LAND LAW
> Types of land ownership
Land in Ghana is held from various stool/skin lands, families or clans, which are the allodial owners. These lands are known as customary lands and, according to Appiah, (2011) make up about 80 percent of all land in Ghana.
There are also public lands, forming the remaining 20 percent, which are made up of state lands and vested lands. State lands mean that the state holds this area by acquisition from traditional allodial owners.
Vested lands refers to those lands owned by the state and customary authorities in a form of partnership i.e. split ownership (Larbi, 2008).
> Types of interests in land
Land can be distributed and leased with various titles:
The allodial title: The allodial title is the highest title in land recognized by law. Only traditional leaders, families or the Ghanaian government can hold such a title.
There are two forms of freehold title interest:
Customary freehold: This is an interest that individuals or groups hold in a land, which is owned by a larger traditional community – the allodial owner –  of which the interest holders are members or subjects. It is an interest that is transferrable to successors of the individual or subgroups until there are no successors.
Common law freehold – Common law freehold is similar to the customary freehold. The difference, however, is that this interest can be acquired by both strangers and members of the community that owns the land. A stranger in this regard refers to a Ghanaian who is not a member of the land-owning community. 
It is important to note that the 1992 Constitution by article 267 (5) forbids the creation of freehold interests in stool land in Ghana.
Leasehold
 – A leasehold/lease is an interest in land that has a specified start and end for a period, subject to payment of annual ground rents and covenants.
There are some lesser land interest types created under contractual, share-cropping or other customary tenancy arrangements. Two very common tenancies in the Akan areas are "Abunu" and "Abusa" or "do ma yenkye." Other areas have different names for these arrangements in the local dialects.
Source : Michael Appiah- Land Disputes Resolution in Ghana- The Role of Customary Land Secretariats (CLS). Case of Gbawe Customary Land Secretariat, 2011 (6)
LAND GRABBING
THE IMPACT OF BIOFUEL INDUSTRIES
Over 20 companies from around the world, including from Brazil, China, Germany, Italy, The Netherlands and Norway, are acquiring land in Ghana to produce biofuels, according to the Ministry of Agriculture.
In 2009, dozens of farmers in northern Ghana claim they have been forced off their land with no alternative source of income after a multinational firm bought their farms to cultivate jatropha, a non-food crop whose seeds contain oil used to produce biofuel.
Biofuel Africa Ltd has acquired over 23,700 hectares of Ghanaian land forcing out the inhabitants of seven villages – all of them farming communities — in Tamale district.
The government has recognized the need for more clarity on the rights of farmers and companies in land deals concerning biofuels, according to the Ministry of Agriculture, and has called on the government's Energy Commission to draft legislation on land acquisitions. (3)
VULNERABLE GROUPS
Joungpeople

Old people

Women
SOME INTERESTING PRACTICES
HABITAT : SOCIAL & ECONOMIC ASPECTS



HOUSING MARKET
Rapid population growth and increasing urbanization have made shelter one of the most critical problems facing Ghana. Increasing overcrowding, declining quality, and lack of access to services characterize much of the housing stock in the country, especially in urban areas.
The housing needs of urban inhabitants are often restricted to substandard structures and unsanitary environments in squatter and slum settlements.
The market for land in Ghana is highly unorganized. Information about who owns what piece of land is not readily available and the legal and administrative systems for transferring titles are cumbersome. These features have serious repercussions on housing supply. Currently, property transactions are slow and costly, and financial institutions are unwilling to extend credit to property holders without clear title. (2)
QUALITY OF HOUSING
People end up living in cramped, squalid and often dangerous conditions. Extended families of eight or more people often share one room, and access to clean water and sanitation is scarce. Leaking roofs and cracked walls are incapable of keeping out heavy rains, and houses even collapse, causing death or injury to the occupants. The dirt floors are usually infested with parasites. Such conditions not only cause poor health, but also reduce capacity to work and escape the cycle of poverty. (1)
INFORMAL HOUSING / SLUM / HOMELESS
ROLE OF PUBLIC AUTHORITIES
HABITAT : ENVIRONMENTAL ASPECTS
Bibliography & Sitography
UNHABITAT, 2008
Afia Afenah,(Re)claiming Citizenship Rights in Accra, Ghana, DPD database, http://base.d-p-h.info/fr/fiches/dph/fiche-dph-8430.html
Michael Appiah- Land Disputes Resolution in Ghana- The Role of Customary Land Secretariats (CLS). Case of Gbawe Customary Land Secretariat, 2011
CIVIL SOCIETY
MAJOR PROBLEMS
MAJOR CLAIMS



SOME ACTORS FROM CIVIL SOCIETY

GHANA HOMELESS PEOPLE'S FEDERATION

= the federation was mobilised to negotiate solutions for 30,000 residents under threat of eviction. Working to find permanent solutions to urban poverty through the improvement of human settlements and shelter conditions, the Ghana Homeless People's Federation promotes partnerships between poor communities and city governments. People's Dialogue on Human Settlements provides technical assistance to the Federation.

Website

HABITAT FOR HUMANITY IN GHANA – HFHG

= Since its formation in 1987, HFH Ghana has successfully re-housed thousands of families in safe, affordable homes and has become a specialist in its field. HFHG homeowners are mostly farmers who own small plots, which they cultivate by hand. Even with a good harvest, these farmers do not earn more than US$50 a month, and they struggle to care for their families. However, the farmers are able to afford a mortgage with HFHG, which is never more than 20 percent of their monthly income. A typical HFHG house is made up of two bedrooms and a hall, with an external latrine, washroom and kitchen. Walls made of cement blocks or sun-dried earthen blocks and plastered with cement are built onto a concrete foundation and cement screed floor. The house is capped with an aluminum roof.

Website

NATIONAL TENANTS ASSOCIATION OF GHANA =

WOMEN IN SLUMS ECONOMIC EMPOWERMENT GHANA =