URBANIZATION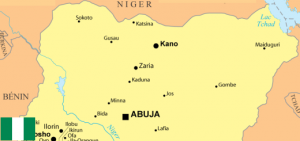 HISTORY OF CITIES – HERITAGE
Architecture in Nigeria is very heterogeneous and varies according to the ethno-geographical but also in terms of space and time. Each of these regions has its own culture, and by extrapolation of housing forms very different. (source: The Nigerian architecture: the trend in housing development)
The architecture of the houses in the cities in Nigeria has changed significantly since the beginning of the post-colonial period. The transition from traditional housing and modern urbanization reveals social changes, especially the change from traditional communities, family values, … and a Western lifestyle. One of the challenges is to continue to promote the values ​​of traditional communities while improving the comfort and durability of homes. Clearly, rectangular, rectilinear buildings in Nigeria … refers to the colonial and post-colonial.
URBAN HOUSING
"The rate of urbanization in Nigeria is not the highest in West Africa and is significantly lower than that of Benin, for example. But its population size, density and size of cities, make it probably one of the two "giants urban" in Africa, with South Africa.
"The population has increased tenfold in three decades, spreading widely on densely populated rural areas.
"There is no official list of cities in Nigeria, many cities have formed at the crossroads of different localities (basic territorial division), so that the population figures do not correspond to morphological entity." (1)
RURAL HOUSING
Source :
The traditional houses of the Hausa of Nigeria's northwest and southwest of the Niger are generally built with mud, like the one above in the city of Kano, Nigeria.
These homes are often decorated with bas-reliefs with geometric designs while Yoruba palace are equipped with carved doors. The architecture of the middle belt of Nigeria includes Tiv people, Igalas the Taroks, Beroms, and Baju Kutep. Architecturally, it contains a series of common curvilinear forms as based on a concentric pattern.
In western Nigeria, the architecture is strongly influenced by the Yoruba and Benin influences. These characteristics are straight with a yard for each family in a group to receive a plurality of polygamous families linked together around a moral unity of man. Eastern Nigeria, where the Igbo are the dominant tribe, we find as a "standard" rectangular houses without windows with columns to support the structure as with other materials: mud, hardwood, palm leaves, trunks papaya, …
– LAGOS
Lagos is the most populous city of Nigeria, which itself is the largest country in Africa. The metropolitan area, which covers some 300 square kilometers, consists of a group of islands fringed rivers and a lagoon. Currently in 2013, Lagos is one of the five largest cities of the world.
The federal government is in the process of transferring the capital Abuja, in hopes of slowing the concentration of the population in the city. Lagos Eko is called by the local population. Its first inhabitants were from Benin and descend Ekoïs awary. In the fifteenth century, the city was a Portuguese trading makes the trade in ivory, spices and slaves. It is then transferred to the British, who began to export food crops.
A civil war that lasted two and a half years broke out in 1967. When peace returned, the rural exodus combined with the influx of refugees and immigrants from other African countries causes a population explosion which still continues today.
The supply of energy and water, sewer, transportation and housing have all suffered from uncontrolled development of the city geographically dispersed. Unlike the rest of Nigeria, 90% of the population of Lagos has electricity, the city consumes 45% of all domestic energy. Despite its location island, Lagos is facing a water shortage is worsening day by day. Lack of sanitation facilities, the majority of human waste are carried by rainwater into open ditches flowing on tidal flats. Bridges with congested traffic is a daily problem, it takes two to three hours to travel 10 to 20 kilometers. We are currently planning the construction of an elevated metro system at high speed.
Since 1985, urban renewal plans have focused on improving living conditions in the poorest neighborhoods by building streets and gutters, providing running water and electricity, opening schools and institutions care.
Sources :
HABITAT : LEGAL ASPECTS
RIGHT TO HOUSING
The Federal Republic of Nigeria has signed and ratified most of the instruments on human rights at international and regional level, including the ICCPR ICESCR AND 1993. The constitution of the Federal Republic Nigeria evokes human rights in Chapter IV. It also recognizes the African Charter on Human Rights (ACHPR). Following the ratification, Nigeria has major roles to play in Legal:
Respect of citizens' rights to adequate housing. Refrain from interfering directly or indirectly in activities that affect the enjoyment of the right to adequate housing. For example, the government could not destroy the houses or deport people without a valid reason. If this was the case evictions can not lead to worse situations than the original.
Since 1989 – Article 17 of the Constitution stipulates that :
2. (d) The State shall direct its policy to ensure that adequate housing and adequate food, water, a reasonable minimum wage at the national level, pensions for the elderly and the unemployed, assistance to sick and disability allowances are provided to all citizens.
Source: CETIM (publication COHRE)
SLUMS AND FORCED EVICTION
For years, the slums in Nigeria are subject to violent evictions and destruction. In 1990, the military government of Nigeria expelled the 300,000 inhabitants of the community of Maroko in Lagos, providing a reinstallation of 3% of them only. The government offered no chance of alternative schooling for children Maroko, In July 2012, dozens of homes fortunes, usually shacks on stilts, were demolished in the neighborhood of Makoko on the Lagos Lagoon. Most immigrants are sinners Togo or Benin. Following a review of the authorities of the state of environmental pollution, people had 72 hours to leave their property without any proposed relocation or land to invest again. Beginning of a long series of evictions, slum has tens of thousands of people.
Demolitions and evictions involving more than 4 million people out of a total of 7,000,000 residents in the federal capital Abuja. Officials of the Federal Capital Development Authority (FCDA), the order of the Minister Mallam Nasir El Rufai, president (chairman) of the FCDA, accompanied by the army, police and bulldozers have indeed begun to destroy palace, schools, hospitals, churches and mosques in Abuja.
Local associations and NGOs denounce impressive numbers: without adequate notice and not giving any plan to the government to offset relocation or deported 800,000 people will be forced shortly to lose their homes, primarily along International Airport Road, Pyakasa, Kuchingoro, Garamanjiji, Aleita, Chika, Galadimawa, A. Gosa, Gasa Sabon Sarki and Lugbe. Other related evictions Gwagwa, Karimu and Dei Dei. 15,000 children have dropped out of school. This is a dramatic situation which encourages violence, especially against women, speakers included, and girls who are most at risk of prostitution and AIDS.
Cause if Aunt cruelty: the decision to implement the master plan completed in 1978 by the International Consortium of Planners, Urban Designers and Architects (EE.UU.) to develop Abuja, at the time designated as the new Nigerian federal capital. The master plan, which had remained in a drawer for years, provides for a maximum of 3 million. They will be outside the law and, therefore, they should be evicted from their homes today 4 million resulting surpluses.
To these must be added the 1,388 families evicted violently by the Ministry of Housing and the Defence of the December 6 last publicly owned housing in Lagos (1004 Flats, Victoria Island, Awolowo Road Towers, Eric Moore Towers Road, Alagbon Towers, Towers and Reeve Road Mulliner Towers Road). Other planned evictions will also lead to 20,000 tenants made homeless by the policy of privatization of the sector started in 2003 under the name of Monetization Policy. Evictions carried out by force of arms as full sentences contrast with the judiciary, as denounced Onyegu Ray, Executive Director of the Social Economic Initiative, counsel for the evicted tenants of public housing in Lagos.
Sources :
[youtube https://www.youtube.com/watch?v=hQp7Kp477Wg]
LAND RIGHT
History of land tenure
Nigeria, after independence in 1960, the state took possession of all the land. It has certainly weakened customary land tenure, but the traditional law has continued to be recognized in areas where land had long been owned by clans and families. According to IFPRI, confusion about the laws applying in the south-west Nigeria has the rich elite to buy in collusion with tribal leaders, land originally belonging to clans, and no one, especially no women can stop them. Customary law in Nigeria
That G. I. Jones said about the land tenure system of the Ibo in Nigeria can be extended to all the country's ethnic groups. The land tenure system of Ibo is based on three fundamental principles: that the land, ultimately, depends on the community and can not be alienated without the consent and within the community, each member is entitled to an extension corresponding to its various needs, building site, garden or fields, then no one will remain landless. The land is distributed to community members in proportion to their needs and is the subject of a simple right of use. Even in the northern provinces where society is stratified into classes and hierarchies dominated by powerful political leaders who are wrongly gave the titles of sultans and emirs (5), the land is not ownership of these leaders. These, despite their authority, have a power of administration and not a right of ownership over the land.
Thus, according to C. K. Meek, emirs and sultans of the northern provinces of Nigeria, as well as all other African leaders must be seen as stewards of the land mandated by the people to whom it belongs.
Source : Website Horizon documentation
Property rights, fuzzy concept
In Nigeria, the ownership and control of all land belongs to the state. The land and various advisory committees have been established to assist state governors and administrations dealing with land. In practice, the procedure for obtaining and developing land become too bureaucratized, obstructive, and riddled with corruption. Currently, the government strongly inhibits the availability of land, especially for the poorest. This has the effect of encouraging the growth and development of increasingly irregular settlements on the edge of towns or vacant public land.
Complexity of a land inheritance ambiguous between tradition and Anglo-Saxon settlement
Nigeria inherited a colonial land law has never responded to the needs and expectations of local populations. This is a situation of legal dualism prevails with one hand little actual state land laws and other local land practices perennials. The inadequacy of state policies and legislation in West Africa, low inclusion of vulnerable groups such as pastoralists, migrants and women, combined with the weakening of the land customs deal with environmental changes, demographic and socioeconomic lead to a situation of tension between local actors involved in increased competition for access to natural resources.
LAND GRABBING
VULNERABLE GROUPS
Homelessness

Joungpeople

Old people

Women
SOME INTERESTING PRACTICES
– HOUSING FOR YOUNG LIVING WITH AIDS
The Association of Young positive HIV / AIDS in Nigeria is estimated that one in three in Nigeria resides in slums aggravating their poverty and ill health. People living with HIV / AIDS live in overcrowded conditions with poor public services and infrastructure due to their substandard housing. These poor conditions reinforce stigmatization and discrimination.
APYIN hopes to form a working group. This group will work hand in hand with the government and other international agencies to achieve the goal of creating housing in the country for the public. Lawyer and witness photos provided by Daniel Peter Obiomachukwu Onyeigwe Association Youth Living Well with HIV / AIDS in Nigeria.
Source : website UNHABITAT
– AUTO-CONSTRUCTION WITH MORE PRECARIOUS
The work of the ICU is to provide quality affordable housing and for the victims of the 1990 expulsions forced Maroko community. It is proposed to deliver 552 housing units for deportees and their families over an estimated period of 5 years. Accommodation ranges from 1 bedroom 3 bedrooms with sizes ranging from 35m2 to 55m2. They will be delivered in four property categories namely, L'Arche, L'Olive, The Dove and Rainbow.
Services such as education centers, religion, recreation areas, parking spaces, community center, library, clinic, market / mall among other land uses are expected to play a complementary role to residential use. Maroko community that will provide some of the labor in the sweat equity to ensure the successful delivery of the project.
– A PRACTICAL GUIDE FOR DEFENDING THE COLLECTIVE RIGHTS REGARDING EXPULSION
COHRE has created a practical guide / / "Community Guide to Asserting and Defending Housing Rights in Nigeria" / /. This is a reference to communities threatened by forced evictions and displacement in Nigeria COHRE and staff to train grassroots activists on the steps to follow in the defense of land and housing rights. It aims to facilitate the formation of communities through an interactive process and workshops. Website COHRE
– SELF IN SOCIAL HOUSING CONSTRUCTION
Build Self-Government Partnership (PWMG) is the social housing model suitable for Nigeria and other African countries. PWMG model is a partnership between the government and the self-construction companies (SBS).
That corporations are self-construction?
A society of self-construction means a housing association whose purpose is to provide for the sale or occupation by its members, the housing built or improved primarily for the use of its members. A (PWMG) is a co-op where homes are built by members of society so there is no cost of labor for construction.
PWMG in practice
In practice, once the government has encouraged the creation of PWMG he wants, he established a strategic partnership with these companies to build housing for the government. The agreement is that the government gives to these companies, interest-free loans or loans at interest rates not exceeding 2%.
The partnership agreement should understand that the government provides free land for companies. Since there are no labor costs to society of self-construction, the average cost of building a house with three bedrooms, could be as low as three million naira (N3, 000,000) or less. However, other costs such as infrastructure, drainage, gutters and beautification should also be added to the cost of the building.
Once the construction work is completed, the government then has a right of first refusal to purchase the housing society at a cost that does not exceed one and a half times the cost of construction. By proceeding in this way the government can build houses very cheap to be rented at rents below market prices. This system is still new and is still low in Nigeria.
Source: Website
HABITAT : SOCIAL & ECONOMIC ASPECTS
HOUSING MARKET
As with many countries in the world, there is an acute shortage of housing in Nigeria, especially in big cities like Lagos, Port-Harcourt, Abuja, Kano, Kaduna, Enugu and Ibadan, resulting high rents that most people can not afford to pay. It is simply an example, like many other Nigerian cities and towns have similar housing problems, without a clear strategy to address the housing needs of people. Statistics show that Nigeria needs about 16 to 17 million more homes to meet their current needs.
This challenge has led to thousands more people homeless and others living in overcrowded and unsatisfactory. The housing shortage in Abuja, for example, is so bad that some suggest that almost half of the staff working in Abuja live outside the city because there are no houses, they can afford to rent in the city of Abuja.
QUALITY OF HOUSING
INFORMAL HOUSING / SLUM / HOMELESS
HABITAT : ROLE OF PUBLIC AUTHORITIES
SOCIAL HOUSING
Nigeria has a history of social housing fairly recent. In addition, after Habitat I in 1976 and the oil boom of the 1970s and until the early 1980s, Nigeria has launched an ambitious program of social housing. The federal government plans to add more than 200,000 housing units in existing housing within 20 years.
In general, only 12% of housing from 1970 to 1974, and 24% for 1975-1980 were actually made. Unfortunately, most of the resources provided for this purpose were diverted for the construction of barracks and other projects. Even now, the various housing programs have served / serve little to advance housing conditions or the needs of the poor in irregular settlements.
Allocation of social housing
Under Nigerian law, who should be given priority in the allocation of social housing may include low-income workers such as teachers in low-income, nurses, doctors and other health workers in low-income services emergency personnel, police officers with low incomes, staff and other essential services that are low-income.
Additional priority right
Priority categories that were mentioned above, some people may have additional problems such as physical disabilities, learning difficulties, mental illness, pregnant women, victims of violence or threats of violence from persons with whom they reside, and serious medical conditions.
This means that people who fall into this category are awarded extra points
Discrimination and equal opportunities
The law of allocation of social housing should be designed so that no applicant for social housing should not be discriminated against on the basis of race, tribe, religion, ethnic origin, sex, age, marital status, sexual orientation, social background, culture, beliefs or ideology or political opinion.
HELP TO TENANTS SERVICE
The National Union of Tenants of Nigeria proposes a methodology to support tenants in Nigeria
conducting a preliminary investigation to determine whether the issue is an unfair practice in housing.

appoint a committee to solve the problem if the union believes that the problem can be solved by her through dialogue.

refer the matter to an authority or body established under the Act if the dialogue is not possible.

An unfair practice in housing, in this context, includes the practice of any act or policy that invokes difficulties to any tenant, in some measure jeopardizes the sustainability of the housing at a reasonable cost.
HABITAT : ENVIRONMENTAL ASPECTS
Bibliography & Sitography
Country file of Nigeria

 on the website of 

e-Geopolis

.
CIVIL SOCIETY
MAJOR PROBLEMS
According to the SERAC ASSOCIATION,
GentrificationGentrification and its impacts have been identified through a review of real estate prices, the impact on education, socio-economic consequences of offshoring, social changes and capital flows in the area . The increase in property prices and capital flows in chic areas led to the improvement of the economic structure of the region. SERAC therefore argues that gentrification improves the quality of life in uptown and beautifies the city, but he especially deplete even the poorest urban pushing them into areas of lower quality of life. SERAC recommends that displaced residents should be adequately compensated for them to afford traditional houses.
The process of gentrification threatens social cohesion in some cases leading to abrupt social transformations and eventually forced evictions.
In addition, in response to the pressure type gentrification, laws along the lines of rent control might help. However, we know that the laws on rent control does not work in Nigeria. Only a few rent control laws have been able to achieve their goals. The state government should set up a fund for affordable housing and involve an investment strategy. It may also undertake further financial support for public and social housing.
MAJOR CLAIMS



SERAC ASSOCIATION demands :
Promote awareness among slum communities focused on the need to explore and develop their individual and collective potential to improve their housing and regenerate the physical, social, economic and environmental communities;

Establish cooperative social housing (s) as a coordination mechanism for ownership of the target communities and participation in the program;

Stimulate income-generating opportunities in communities through training in technical trades and other skills economically viable;

Design and develop a savings plan to retain and increase the financial capacity of members to participate in cooperative social housing
In addition, it calls on the authorities ..
Of Lagos State to put an end to forced evictions in East Badia and ensure that all legal and procedural safeguards (genuine consultation, adequate notice and adequate alternative housing for those affected) are in place before further deportations;

Provide residents of East Badia whose homes were destroyed and a new decent emergency aid, including food, shelter and water and access to sanitation and to health services;

The opening of an independent investigation into the use of force during evictions Badia East.
THE NATIONAL UNION OF TENANTS OF NIGERIA request:
Conduct a preliminary investigation to determine whether the issue is an unfair practice to housing.

Appoint a committee to solve the problem if the union believes that the problem can be solved by her through dialogue.

Refer the matter to an authority or body established under the Act if the dialogue is not possible.
When the NIGERIAN SOCIAL FORUM, it was proposed that:
Access to capital markets are used to generate funds for housing – the government may provide a subsidy to offset the difference between the interest rates of money market and bank mortgages to federal affordable housing and easily accessible to the urban poor.

The government should aim to increase the housing stock by improving and integrating existing facilities. This would also reduce the number of families forcibly evicted from their homes.

Develop alternative accommodation.

The empowerment of urban poor should not be held by infusion of donor aid or government

Adopt the draft law on social housing and to provide the means of its implementation.

Developers should encouraged the development of multi-storey buildings, as opposed to many bungalows to maximize space, especially in areas where land is scarce.
SOME CIVIL SOCIETY ACTORS
SERAC

 = Established in May 1995, CARS is an organization based in Lagos nongovernmental, nonpartisan involved in the promotion and protection of economic, social and cultural rights (ESCR) in Nigeria. 

Website SERAC

SERAP

 = non-governmental, non-profit organization created in 2004 under the Companies and Allied Matters Decree 1 of 1990 of the Republic of Nigeria. SERAP aims to promote transparency and accountability in the public and private sectors through human rights. Help citizens to be legally against the government in violence related to evictions in the slums. 

Webside SERAP

ECO-TEC

 = is born from the desire of the founder Andreas Froese to find innovative solutions to the problem of inadequate housing. Construction techniques developed and tested using soft drink bottles made ​​from polyethylene terephthalate (PET) have been particularly developed in Nigeria. 

Website ECO-TEC

DEVELOPMENTAL ASSOCIATION FOR RENEWABLE ENERGIES – DARE

 = ocal association in Nigeria, aims to order to promote understanding and use of renewable energy resources available in abundance mitigating desertification, climate change and the promotion of a healthier world. 

Website DARE

SERI = on-governmental organization in Nigeria that promotes the social, economic and cultural rights of the poor.

NATIONAL UNION OF TENANTS OF NIGERIA

 = National Union of Tenants of Nigeria which is oriented towards the promotion of the right of each tenant to a decent level in relation to a physical, mental and moral families. She denounces unfair practices in housing. 

Page Facebook

URBAN SPACE OF INNOVATION – USI

 : on – governmental organization and non-profit dedicated to expanding equitable access to land and explore innovative approaches to the development and improvement of housing and living in poor urban communities in Nigeria. 

via website SERAC